RIVIERA MAYA
The Riviera Maya is the newest and most recent resort on the Mexican Caribbean Coast. It is a tropical paradise of crystal clear waters that harbors true living treasures, some of the world's most beautifulbeaches, and an exuberant tropical rainforest teeming with rare wildlife.
The Riviera Maya is the perfect place for a romantic hideaway, where you can do extreme sports or enjoy the coolest nighttime entertainment. Experience the Caribbean at its fullest, surrounded by magic places like the Sian Ka'an Nature Reserve, the Tulum archaeological site and hundreds of natural cenotes (sink holes that harbor several plant and animal species).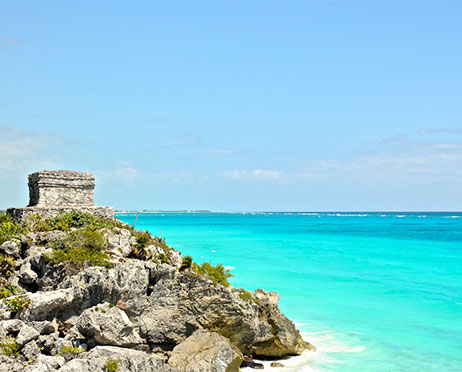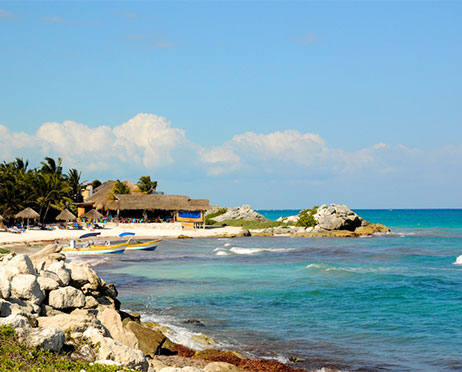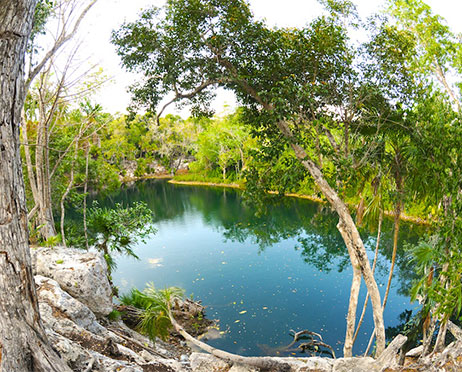 The Riviera Maya is a long strip of coast that extends along 80 miles of white sandy beaches and the turquoise waters of the Caribbean Sea, on Mexico's easternmost frontier, in what is theState of Quintana Roo. It comprises of an area that includes isolated beaches, as well as modern resorts with hotels, marinas, sports facilities and restaurants.
This area has become a first-class destination for foreign and domestic tourists, who come here for its unique geographic conditions, embracing diverse environments. There are jungles, rivers, subterranean rivers and cenotes to savannas, lakes, lagoons, mangroves, and of course the incomparable turquoise blue sea that turns silver, in the light of the moon. Enjoy the gorgeous soft white sand on the beaches, several of which are still virgin and isolated.
Pyramids, stelae, ball courts, temples and plazas are just some of the vestiges of the great Mayan civilization that have endured throughout the ages and have helped scholars uncover some of the mysteries that still shroud this great civilization. Their legacy is part of the living culture of the modern day Mayan people who still live in the area and appreciate the many customs, traditions, religion, and social structure.
There is plenty to do in the Riviera Maya. Frequent theme parks. Take part in eco-touristic activities and extreme sports. Attend golf or tennis tournaments. Take a hiking trip to the jungle or go and visit the archaeological treasures of the Maya Towns.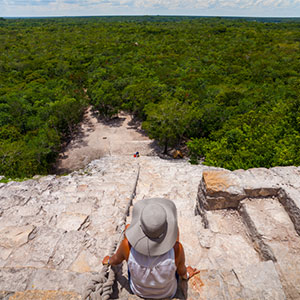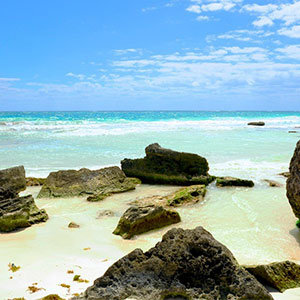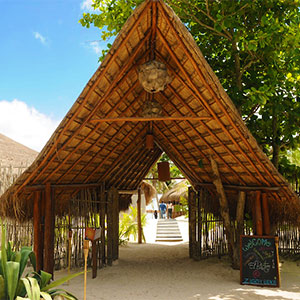 All along the Riviera Maya, there are a number of interesting towns worth visiting. Start with Playa del Carmen, considered the heart of the Riviera Maya for its economic importance, as well as for the rate of its population growth. Then there is Puerto Morelos, located half-way between Playa del Carmen and Cancun, a former fishing village. Further south, you can find Tulum and Punta Allen.
The urban sprawl and the natural beauty of the area have given rise to residential communities, such as Puerto Aventuras, with its first-class marina, golf courses, hotels and condos. Akumal and Chemuyil which were first populated by the workers of the tourist industry, now attract a lot of tourists through their own merit.